Thanks for visiting our Lessons page! This means you or someone you love has a desire to increase their artistic ability or to have an enjoyable creative outlet in which to express themselves. Well, you've come to the right place. It is our goal to provide the greater Phoenix area with affordable and professional, personalized art instruction.
Check out the following group class options:
Art for Adults: In Art for Adults, beginners will learn some basic drawing skills and the more advanced student will have the opportunity to refine their skills while learning new ones. Various aspects of art are explored in each session including composition, shading, space, dimension, texture, color, realism, and abstract ideas. After techniques are taught and practiced, a class project will begin. Our goal is to enjoy our artistic time, build our skills and friendships, and have fun expanding our creativity.
Art 2D: Drawing and Painting: In this class, we will explore the possibilities of creating beautiful art with acrylic and watercolor paint as well as drawing with graphite pencil and colored pencils. Students will receive group and individualized instruction on a class project in a casual, relaxed environment that fosters creativity and friendship. New techniques will be taught and practiced, then implemented into a "masterpiece" of their own. Beginners will learn some basics while the more advanced student will have the opportunity to refine their skills, all with the goal of using their creativity to enrich the world around them. A fun and colorful class! This is a four-week class, meeting once per week for an hour. Cost: $120
Kids/Youth Arts and Crafts-Canvas and Beyond: Canvas and Beyond explores artistic design and the creative experience through a variety of mediums such as string, mosaic, canvas, and more. There is a materials fee for this class as Kristin will bring the supplies you will need for each lesson. This frees you up from having to buy supplies. You just show up ready to learn, create, and have fun! But bring a smock for those messy projects! Canvas and Beyond: Making art with far more than just a canvas or paper - endless possibilities. Cost for 8 week class including materials fee is $275.
Teen Time: This is a unique class with 15 minutes each week spent learning a new skill, 30 minutes of mentoring in the classroom, for teens to bring in whatever they want to work on of their choice, and 15 minutes of teaching time based on observations of the mentoring sessions. This will be a fun opportunity for teens to learn with flexibility and skill learning coupled together
Younger Years Art: This class is perfect for students 5-10 years of age. In Younger Years Art, students will explore various mediums and techniques to help their creativity and imagination soar. This lighthearted, engaging class will be suited to their age level and offers group and individualized instruction on a new project each class. Lots of colorful fun. There is a materials fee included in your tuition for this 4 week class. This frees you up from having to buy supplies. You just show up ready to learn, create, and have fun! Cost is $140.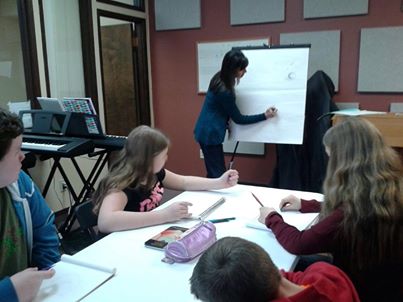 Private Lessons - The purpose behind private lessons is for you to have regular one-on-one privatized instruction, just for you, according to your needs. Private lessons are $35 per half hour lesson.
At-Your-Home Group Lessons - If you have a group of students of 6 or more, and live in the greater Phoenix area, we can make arrangements to do lessons at your home. You provide the tables and chairs, we'll come prepared to teach an enjoyable, engaging lesson. Please have arrangements for younger siblings to keep the focus on the art instruction. Kristin or John will arrive 10 minutes prior to the lesson for set-up, and will end promptly at the end of the hour lesson to accommodate travel time to any following engagements. Group lessons are taught once a week for four weeks. Emphasis rotates from step-by-step, eye-training, shading & perspective, and mixed medium. Please bring your own drawing pencils, sketch pad, kneaded eraser, and colored pencils. Pastel chalks are optional. Materials for mixed mediums are included. Cost for this 4 week class is $120/student.
Please feel free to call us with any questions or special needs.

Kristin: 253-754-2965